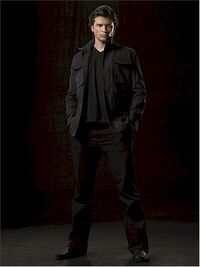 Thomas John Patrick Welling
(born April 26, 1977) is an American actor, director and former fashion model, most famous for his continuing portrayal of Clark Kent in the current television series
Smallville
.
Smallville
Edit
Tom Welling portrays Clark Kent, a young man with superhuman abilities, who tries to find his place in life after discovering he is an alien. He uses his abilities to help others in danger. Clark's problem in season one includes not being able to share his secret with anyone. He just wants to be normal. After months of scouting, Tom Welling was cast as Clark Kent. David Nutter had to convince Welling's manager that role would not hurt Welling's film career in order to be able to get Welling to read the pilot script. After reading the script, Welling was convinced to audition for the role.
Characters played
Edit
Ad blocker interference detected!
Wikia is a free-to-use site that makes money from advertising. We have a modified experience for viewers using ad blockers

Wikia is not accessible if you've made further modifications. Remove the custom ad blocker rule(s) and the page will load as expected.